Different Types of Fireplaces: A Full Guide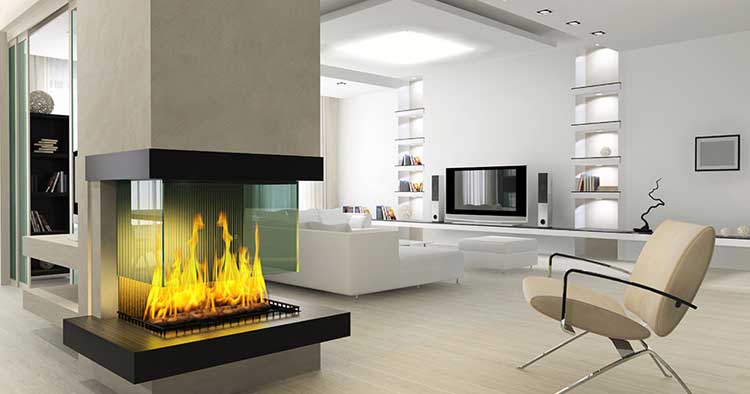 Many individuals contemplate adding or repairing home interior fireplace while contemplating methods to refurbish a property. It's much more than just heating a space; fireplaces can make the ambiance of a room romantic and cozier.
There are several sorts of fireplaces that you may buy, but they come in the main categories of wood-burning, gas-burning, ethanol-burning, and electricity.
Types of Fireplaces to Consider
Here are some details about the different types of fireplaces that you may consider while making your choice.
This style of fireplace traditionally has a glass panel that allows you to experience the atmosphere of a fire. This design means you get less temperature to go out of the fireplace and enter the room more so that you stay warmer while still feeling the comfort of a wood fire.
A fireplace is outside the house, where fires get built. Similar to the interior chimney, an outdoor chimney generally gets built into a stone, brick, or concrete courtyard.
Fuel Fireplace Types
Fireplace designs based on fuel types-
An electric fireplace is just a heater that simulates a wood or coal fireplace. When refurbishing a house, homeowners often choose an old, traditional electric fireplace because of its many advantages.
Electric fireplaces are supplied via a connector within your wall so that no smoke gets discharged. It is minimal maintenance and easy to clean because wood gets not burned to create heat.
A gas fire is better than a wood-burning fire because the amount of gas needed to start the flame can get controlled. It's an easy change if you want additional heat. The second is that you want the fire to stop; you may turn the gas off, and the flames dissipate fast.
Gel fireplaces are considerably less common, although they have certain advantages than electric or gas fireplaces. A gel fireplace may get loaded with fuel for all applications.
It does not require ventilation, lines, pipelines, or power cables. It is adaptable because a gel fireplace is autonomous. Often this type is light enough to fit comfortably on a wall.
Fireplaces that use ethanol have become the current installation trend and modern design trend. A design that fits every décor or budget may get found. They are clean and smell-less and, if anything, need minimum installation.
The wood-burning chimney is the classic of all chambers. The lovely atmosphere created by a wood fire is hard to duplicate. Everything people like about natural wood fires is the ambiance, the warmth, the sound, and the fragrance.
While new alternatives are becoming increasingly popular, wood burners are still useful choices in a house.
Fireplace Mounting Options
List of fireplace mounting options:
Traditional Open-Hearth Fireplace
These are the sorts of fireplaces that have existed for millennia. However, they feel the most genuine, but they frequently do not heat the room as effectively as some of the most contemporary types.
Furthermore, if your house has no fireplace at all, many buildings will be required to put both the aperture and the cheminée into place to provide appropriate ventilation.
A stand-alone chimney is a good alternative to a typical open-hearth fireplace. It generally has a coat and is meant to resemble the appearance of a conventional fireplace. Your stand-up fireplace can be entirely stand-by or fixed on the wall or ceiling, depending on the type of fuel utilized.
You may hang your fireplace on every side with this technique. Making it a heating source and an art piece. It is the ideal alternative to a TV in the middle of a room.
Built-In Fireplace Insert
An insert fireplace uses a typical fireplace that is already built-in. You may also get an electric, gas, gel, or ethanol insert that easily slips into the present aperture if your home has an over-hearth wood-burning fireplace. It is a fantastic method to turn a wood-burning fireplace.
It utilizes an alternate fuel into a less energy-efficient and maintenance-efficient one. The good thing about fireplace inserts is that they use your space. These classic aesthetics might get developed or a model with a current style chosen.
These are available in various sizes, so that can utilize them in a range of environments. They are readily movable, particularly for smaller versions, so that they may be taken to another room or shifted to a new location if you need to wear a table or other piece of furniture.
What to consider before buying Fireplaces?
List of things to consider before buying different fireplace styles:
1. Heat Required
The main part to pick which sort of chimney fuel you need is to consider your heating requirements. A large component of a chimney. A bigger room or a house needs a fireplace to heat it. On the other side, too much heat gets produced by an overlarge fireplace in a tiny room.
2. Room and Location
The location of your chimney affects the kind of fireplace you may buy. Fireplaces made of wood get ideally set up towards the outer walls. On the inside walls, other forms of fuel may get employed.
3. Fireplace Installation
Fireplace installation includes plopping an electrostatic fireplace down on a new wooden fireplace to refurbish your property over weeks. There is a gas fireplace in the center of the installation spectrum. These need to be linked to a gas line.
4. Fire Safety
The fireplaces should get utilized with the utmost care, but particularly wood-burning fires. Follow the correct recommendations on fire safety. The sort of fireplace you buy begins with fire security. The safest choice for households with children or pets is electric fireplaces. For children and pets, gas, gel, and ethanol are also safer.
5. Cost and Budget
Numerous elements determine your fireplace costs. It is necessary to consider the costs of electricity, gas, gel, and ethanol fireplace installation. You can install some models yourself, but you need a professional to add additional money to your account.
Fireplace Frequently Asked Questions
Q1. Is it possible to recycle fireplace ashes?
In the usual meaning of curbside collection, ashes cannot be recycled. But it may be reused in numerous ways.
Q2. Do fireplaces of gas wind up?
Gas fires are both exposed and unvented accessible.
Q3. Can it paint fireplaces?
Yes, a fireplace may get painted in and out safely. On the outside, most specialists recommend heat-rated acrylic latex paint for up to 200° Fahrenheit.
Conclusion
To conclude, fireplaces may be a vital component of a house and its overall function and aesthetic.
You may also like...