5 Simple Bathroom Improvements
Is your bathroom starting to look shabby and outdated? Take a look at some of these simple improvements you can make when updating the look of your bathroom. If you are worried about your budget when improving your bathroom, not to worry. One of the best way to make a blueprint for a bathroom renovation. Some of these improvements are perfect for you and will cost a lot less than you first presume.
5 Tips to Renovate your Bathroom:
Some of the useful small bathroom renovation ideas are:
1. Think about decoration
If your bathroom looks like a 1950's time warp (as pictured below), it is probably time for an update!
As you will know from the rest of your home, the decoration of a room is one of the key changes you can make to improve its look. There are a number of options available on today's market when decorating your bathroom, you can either choose the budget-friendly option of re-painting or go for something a little classier like tiling for example.
If you decide to go for the tiling option, the choice of tiling products can be very mesmerizing. If you are looking for a clean and vibrant look, Crema Marfil tiles are probably your best bet. There are also limestone floor tiles, marble tiles and much more.
You may , however,want to combine the 2, this has become quite a popular choice in bathrooms of today.
2. Invest in a new bathroom suite
If your bathroom looks like the pink one pictured above, you will probably also need to replace your bathroom suite. This includes your bath, sink, toilet, shower and storage areas.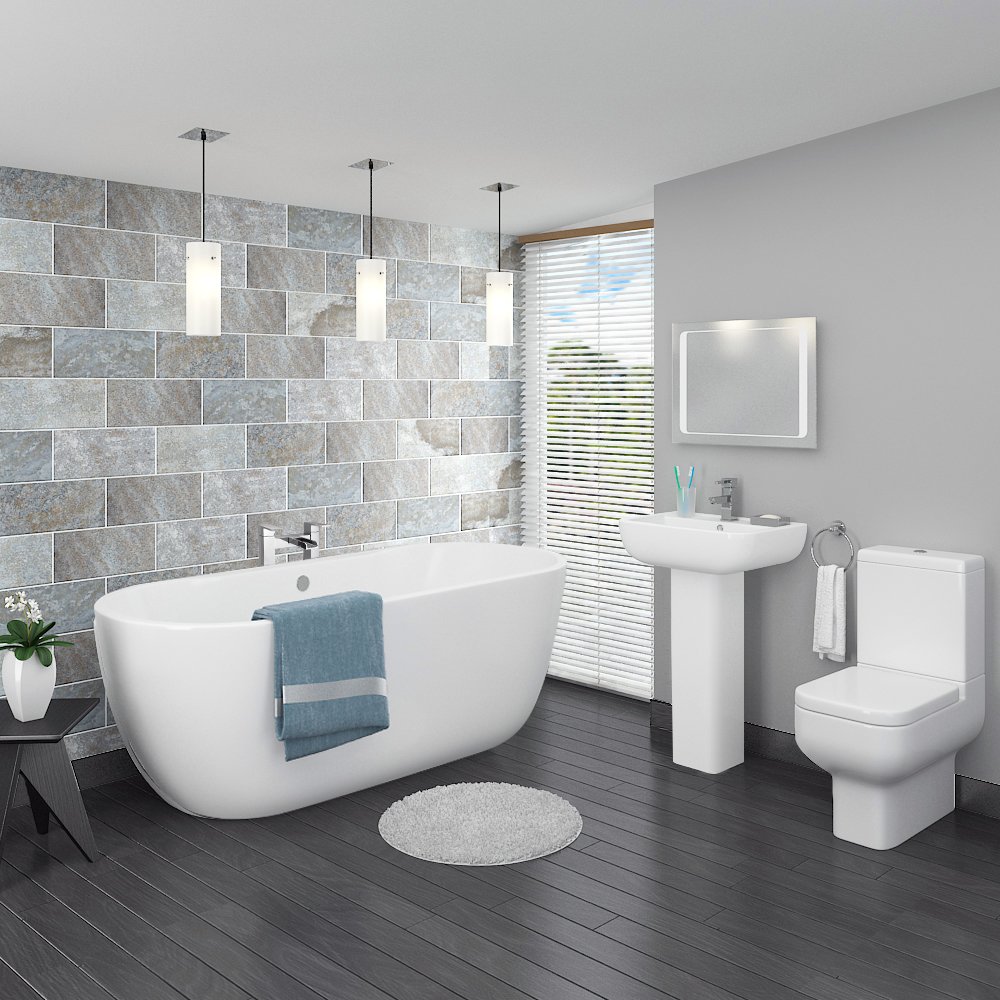 As you can see on the left, a modern bathroom suite can give an instant transformation to any bathroom.
Free standing baths are becoming quite a popular choice in the new modern bathroom, these give a unique and attractive look to an otherwise dull tub.
If you have spare money, why not look into installing a walk in shower also? These have improved an awful lot in looks over recent years and look a lot better than simply installing a shower head above your bathtub. Surprisingly toilets have also evolved in looks, with modern shapes now being implemented into toilets.
3. Think about storage
As is the case with any room in your home, storage is a major issue. There are a number of storage options available for your bathroom, I will try to point out a few of these here.
Install Shelving
Shelving is perfect for giving extra storage space, as you will probably know from using shelving in other areas around your home. Shelving can be used in many ways around your bathroom, including in your shower, next to your sink, above your toilet and much more. Shelving is the perfect storage solution and will hold all your shower essentials, fragrances, toiletries and more.
Install a storage mirror
If you are looking to install a mirror in your bathroom, why not look at one that will also help with storage? Most modern bathroom mirrors have a storage cupboard behind the glass (as can be seen in this picture). These give extra storage space where you would not normally expect to have this and are perfect for storing bathroom toiletries.
Invest in a custom vanity unit
If you really want to make your bathroom stand out from the crowd, why not look into buying a Bespoke Vanity Unit? This will give your bathroom a unique look and will be constructed with your bathroom layout and space in mind.
Bespoke Vanity Units will also give you more storage space in your small bathroom, these often feature shelves or cupboard storage spaces below the sink area.
4. Install a heated towel rail
You may think that installing a heated towel rail is a pointless exercise when giving your bathroom a makeover. However I personally believe that this is wrong, and here is why I think this. Heated Towel Rails not only give extra space for drying towels, but they also provide what they are called…heat. Most bathrooms can be pretty cold, especially if you don't have a radiator installed in there. A heated towel rail will give extra warmth to your bathroom and you will start to see the benefits of this straight away.
5. Hang a large mirror
Hanging a large mirror in your bathroom will look better than having 10-15 small mirrors all over the place. This will be just as useful, with huge space saving advantages. This method is used in most public toilets, with a large mirror above wash stations. As with above, a large mirror can also be used for storage in your bathroom.
Its time for action
The tips above should give you a head start if you are looking to update and improve the look of your bathroom. Some of these steps can be expensive and considered a luxury, but most of these are simple and budget effective.
Tags bathroom renovation tipsdecorate bathroommodern bathroomstorage mirror
You may also like...