11 Modern Landscaping Ideas to Complement the Contemporary Home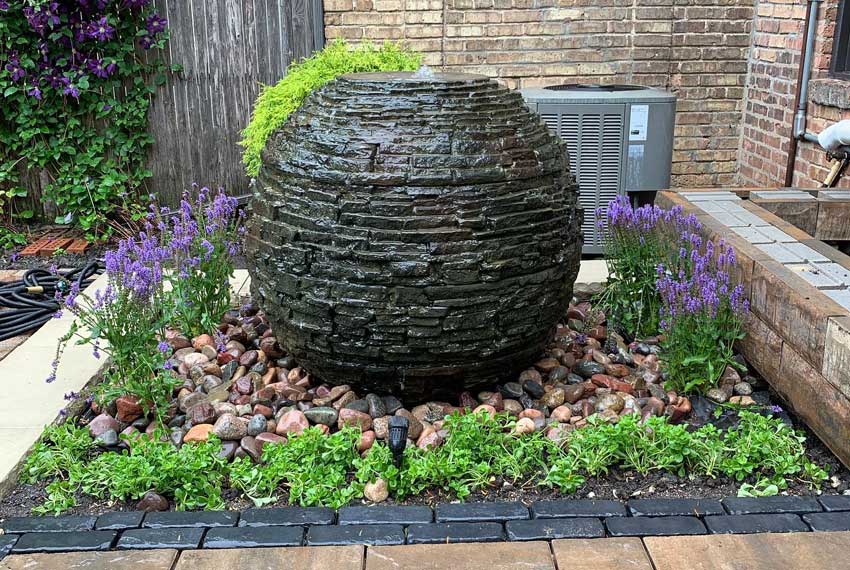 Modern landscape designs may be characterized by concepts like simplicity and sustainability, but landscaping in a contemporary context also leaves plenty of room for expression and personalization. There are various ways to create a cutting-edge landscape design that complements the modernity of your home without compromising its hominess. Here are a few ways to update and refine your landscape this fall:
Creating Clean Lines
Modern landscapes utilize geometric shapes to achieve simple, clean-lined layouts that clearly convey a sense of refinement. Not only do geometric landscape designs look polished, but they also direct the eye fairly easily. Defined lines provide fluid paths along which the human eye can naturally travel, and by having various geometric features converge at a single point, focal features can be established. Runway-like paths, fire tables, and square patios comprised of sleek, large format pavers are all excellent examples of features that can incorporate sharp edges.
Grass Tiles
Grids are one of the most popular features to include in contemporary landscaping. Concrete, grass, and other plants can be juxtaposed in a grid format to create a geometric focal point that incorporates a contrast in color and texture. Grass tiles inserted into concrete surfaces also serve to soften heavily hardscaped properties. Opt for varieties of grass and groundcover that will not only thrive in your climate but will also be able to withstand foot traffic. Some groundcover varieties add further character to these grids when their flowers bloom.
Picking the Right Plants
Certain plants, like ornamental grasses and succulents, are commonly used within modern landscapes for their fairly unconventional beauty. One popular modern planting trend involves planting in a grid-like pattern, separating square beds with rows of pavers that break up the green space in a uniform way. Merging soft greenery with crude industrial materials is another captivating contemporary trend. Rusted steel and bare concrete are good examples of materials that can be nestled into areas of greenery to create an interesting contrast. Xeriscaping is becoming more widely used, not only for its stark beauty but for its role in an increasingly eco-conscious world, too. Xeriscapes are packed with texture in the form of unique rocks and sparse, but characterful, plantings.
Going for Gravel
Gravel can add an element of grit to a modern landscape. In xeriscapes, they replace soil. They can be used to surround concrete or stone stepping stones that introduce a lawn or wooden deck, creating a cold and rugged canvas that contrasts a softer, richer surface. Gravel underfoot creates a pleasant crunch and leads many homeowners to cover entire walkways and large areas with gravel, despite the availability of more sophisticated concrete paver options.
Planters
Sneak a bit of greenery into the nooks and crannies of your patio using sleek planters. Consider planters with geometric designs, metallic colors like cobalt blue, or planters made from galvanized steel. Galvanized watering cans or buckets can be repurposed as planters for a characterful result.
Lighting It Up
Outdoor lighting is an essential part of any functional landscape design. A well-planned landscape lighting plan can also refine your design, however, and enhance its modernity. It can be used to highlight the sleek lines in your landscape design and draw further attention to your desired focal points. Opt for sophisticated fixtures and an automated system that enables their remote control.
Refining Your Relaxation
One of the most important functions of the modern landscape is to facilitate relaxation in an increasingly busy world. Include tranquil features in your landscape design to ensure that an element of zen is always available. Water features are excellent additions to landscapes that require softening because they are both captivating to watch and build white noise. A koi pond, for example, is a wonderfully dynamic option. Most water features attract life—usually in the form of birds—which come with plenty of character and a serene soundtrack of cheerful chirping.
Outdoor Seating
Outdoor chairs and sofas must be both durable and comfortable, but can also help to perpetuate a desired aesthetic theme. In many modern spaces, especially the ones that lack grass, a seating arrangement can serve as an important centerpiece that adds design interest. Opt for refined materials like metal, plush upholstery, and smooth, light wood varieties.
Going Minimal
Minimalism is an important facet of the modern home and, therefore, its accompanying outdoor living space. Portable features are kept out of sight until needed, and surfaces are kept bare. So, plenty of storage is essential to keep handy elements of the outdoor kitchen and fireside at hand without leaving them out in the open air. Plant beds should be neatened by expert edging and the softscape continually maintained.
A Neutral Color Palette
Another aspect of contemporary design is light, neutral colors. While light colors can make spaces look sterile, incorporating warm undertones like sand and beige into the palette can serve to brighten an outdoor living space without draining its character. Neutral shades are wonderfully versatile and allow for renovations and rearrangements to be made without repainting, reupholstering, or tearing up existing features. Other colors can be introduced in small, eye-catching doses.
Trendy Trellises
Trellises may have been used in century-old landscape designs, but they can be incorporated into contemporary designs, too. They add vertical interest to landscapes with underwhelming silhouettes. They can also be covered with climbing plants as an interesting way to add greenery to the design and prove handy in jam-packed hardscapes that lack beds in which to plant shrubs and flowers. Leaving them bare can also retain that sense of minimalism that defines many current designs. Opt for steel trellises flaunting interesting geometric patterns, or go with simple, stacked wooden panels.
You may also like...