How to do Kitchen Remodeling on a Low Budget?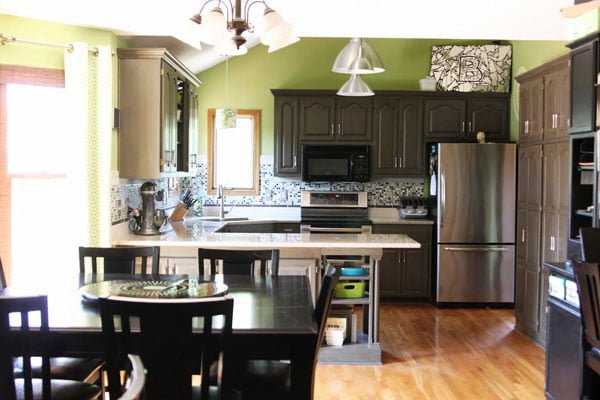 Why is Kitchen Remodeling Important?
The kitchen gets more attention of the interior designers this year than any other part of the house. The kitchen is designed and remodeled according to the space of the kitchen and main focus this year is designing the kitchens which have less space and around the kitchen equipment as well.
When you try to remodel your old kitchen and want a new look, the main fear is over budget kitchen remodeling that is why it is important to redesign your kitchen in a low budget. For this purpose, few tips and hacks are mentioned below so that you can redesign and remodel your kitchen in fewer budgets.
Kitchen Remodeling Ideas
Want to give your kitchen a new look? Check out some Kitchen Remodeling Ideas to renovate your Kitchen.
Instead of replacing, paint the cabinets:
The cabinets are one of the major parts of the kitchen which not only cost a lot but also it is a onetime investment. The cabinets not only define your kitchen and it's interior but also very good for storage that is why the cabinets need special attention when it comes to remodeling of the kitchen. But instead of replacing the kitchen cabinet you can always paint and repair it by yourself or from any professional. Painting the cabinets will help you give your kitchen a new look as well as saves a lot of money. If you want to do this by yourself you can buy a few painting utilities such as brushes, paint brushes and get started by yourself. It is one of the best kitchen remodeling ideas.
Make a better storage kitchen:
One important element of kitchen remodeling is the storage options in your kitchen. This year the latest trend for kitchens are heavy duty storage kitchen cabinets and options, that is why you can make a storage wall in your kitchen which you can build yourself or ask any carpenter to do the job. This storage wall consists of multiple cabinets and storage portions which will not only store utensils and crockery but food items and spices as well.
Polish your kitchen tiles and marbles:
If you are really tight on budget and want a fresh looking clean kitchen then you can clean and polish your kitchen tiles by yourself. You can also include wallpaper, butter paper, and other accessories which will help you wall to stand out in the kitchen. You can clean the marbles and tiles and polish to give a fresh look to your kitchen. In case you don't have tiles or marbles in your kitchen you can paint the kitchen walls to provide a completely remodeled look.
Right flooring option for your kitchen floor:
For those who are tired of their boring kitchen floors, you can always change it in a budget and by yourself, add tiles to your kitchen floor all by yourself and remove the old flooring. This can be done on a budget all you need is proper planning, right tools, new tiles, and cement to get started with your kitchen floor remodeling project. This can be done by the professional help as well.
Shuffle places of your appliances:
In many cases, kitchens can get a fresh look by just changing the places of kitchen appliances and you can do it without spending any money. Once you are remodeling the kitchen, do change the location of your kitchen appliances such as fridge, freezer, microwave, cooking range etc to give a completely new look to your kitchen and remodel it on a budget.
Restore your old kitchen sink and clean it:
Kitchen accessories are expensive than you think that is why remodeling can be done while repairing your old stuff. If you have an old stainless steel sink, you can always use it after a few repairs and clean-ups. Use professional cleaning materials for cleaning your sink and its parts, polish it and repair its broken and useless parts for best results. This can be done by yourself too at home, get a flow kitchen sink to achieve the best results for your kitchen.  This will help you save your money and stitch to your budget. You need the best kitchen faucets that are functional and available at a reasonable price.
Tags kitchen cabinetskitchen flooringkitchen remodeling ideas
You may also like...