Environmentally Friendly Bathroom Updates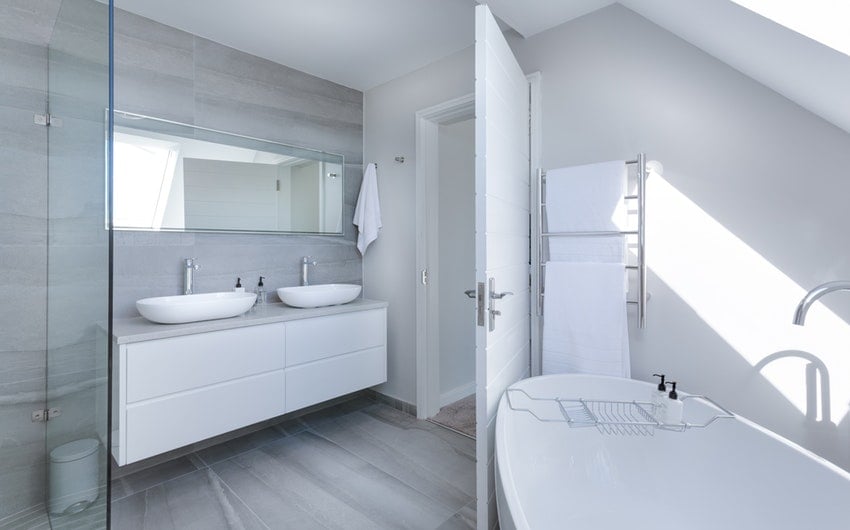 A top reason to remodel a bathroom is because, it is outdated and starting to show it — just not as attractive as it used to be. Yet another reason to update this space is because older bathrooms can be environmentally unfriendly. Water wastage is a concern since old toilets, faucets and showers use a lot more water than modern fixtures. Then there are the building materials, too, which are often not sustainable or recyclable.
Ideas to Remodel your Bathroom
If you are planning a remodel, there are myriad changes that can keep the renovation green. Here are seven environmentally friendly bathroom updates to consider. You may find that some of these suggestions could dramatically improve your space.
1. Use a Low-Flow Toilet, Faucet and Shower Head
The bathroom is where most of a home's water is used. The toilet can account for up to 26.7% of that usage. Older toilets can use between 3.5 and 7 gallons of water, whereas modern toilets with the WaterSense label use 60% less at minimum. Replace an older toilet with a low-flow model to save water and reduce monthly utility bills.
Similarly, a lot of water usage goes into bathroom faucets and showers. Household faucets use on average 15.7% of a home's water, and showers use 16.8%. Choose low-flow versions of these fixtures to further cut water usage — especially in the shower.
2. Fix Leaks
Leaky faucets, toilets and so on account for 13.7% of water usage in the average home. If you have already planned to replace the toilet, shower head and faucet, then this should take care of any leaks that were present in those fixtures. That is not the only place to check for leaks, though.
If possible, when renovating the bathroom, make sure to inspect all plumbing — including pipes concealed within walls. Correcting leaks here, even small ones, helps to conserve water and prevent damage to the home's structure.
3. Choose a Sustainable Sink for Your New Vanity
These days, there are plentiful eco-friendly sink options available. For instance, recycled metals such as copper, bronze and aluminum are good options that are also well-suited for a bathroom space.
Many nontoxic cement varieties require less energy to produce, which makes them a greener alternative to traditional sinks. Porcelain is a non-toxic material that you can buy now — and recycle later.
4. Solar Hot Water
Water heaters are a big part of a home's energy usage. One way to reduce those bills — and moderate the use of unsustainable power sources — is to go with solar. As part of your bathroom remodel, consider installing a solar water heater. With solar technology improving, today's models are effective, efficient and made to reduce nonsustainable energy usage.
5. If You're Tiling, Opt for Recycled Tile
With tile so popular in bathrooms, it is easy to find recycled tiles in all shapes and sizes. Subway tiles are popular — but stone, ceramic (in a variety of colors), glass and other materials are also available.
If you can't find a recycled tile to suit your bathroom, then consider options such as bamboo tiles or even concrete, which is an eco-friendly alternative to more conventional tile types. Any of these products will make your bathroom attractive while keeping it green.
6. Consider a Sustainable Bathtub
If you are looking for a new tub, there are a few stylish options that are also good for the environment. For example, a solid-surface tub is a durable choice that can be recycled at the end of its life span. This material uses a mixture of binding agents and natural minerals.
7. Rely on Natural Lighting
To keep energy use at a minimum, think about adding windows or other sources of natural light to the bathroom. Windows do double-duty as ventilation, which can further reduce energy use by minimizing the time spent running an exhaust fan. If privacy is a concern, you can also opt for a skylight or sun tunnel to shed more light on the bathroom.
There are lots of updates you can make to lower future utility bills and/or incorporate sustainable materials into your bathroom. Choose a few of these seven ideas above for your remodel, and you'll enjoy a beautiful, eco-friendly upgrade.
Author bio: Erica Garland is Content Marketing Manager at Modern Bathroom and has 15-plus years of experience in the bathroom renovation industry. Modern Bathroom sells a variety of products you would need for any bathroom renovation project. With such a large selection of vanities, faucets, sinks, toilets, and showers, Modern Bathroom is sure to have the perfect piece to give your bathroom an updated look.
You may also like...